25 May 2010, Tuesday
3:30 P.M.
Our delegation of 28 touched down at the Ben Gurion International Airport. Upon arrival, I saw 2 plainclothesmen waiting at the top of the escalator stop H.B.III, the African-American minister in our delegation, to ask his name and his purpose in Israel.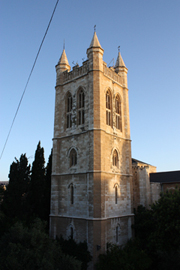 Bell Tower of St. George's College Guesthouse
Most of our delegation had already proceeded through custom control. When it was my turn, I was simply asked, "Are you with the group," to which I replied, "Yes, I am." "Never volunteer extraneous information and don't be facetious" was the take-away lesson drummed into our heads during orientation. Yet, if custom control were to ask me, "Will you be visiting the West Bank," or, "What is the purpose of your visit," I felt the overpowering urge to answer, "No, I will be visiting only CitiBank" to the former and "I am here to dally with an Israeli Facebook friend" to the latter.
We soon realized that L.E. and D.M. were absent after several repeated headcounts; it didn't take a genius to guess that their Palestinian-American ethnicity earned each a compulsory invitation to watch football [soccer]. We wait.
5:30 P.M.
We all breathed a collective sigh of relief! L.E. and D.M. finally escaped from their interrogators. We boarded the tour bus and headed for East Jerusalem. Along the way we got our first history lessons on Israel, Palestine, and the so-called "Green Line" that is the de facto border between Israel and the Palestinian Territories.
6:33 P.M.
We arrived at the guesthouse of St. George's College, the place we would call home for much of our 12-day stay in Israel/Palestine. The kind hosts of St. George's welcomed us — and announced that dinner will be served each night at 7 P.M. — as we paired off to our rooms.
7:00 P.M.
Huzzah \o/ A return to civilization after more than ten hours of food stuffs served in plastic containers. Sat at a table with L.L., T.D., M.C., and B.N. Made first contact with Maklouba, an absolutely delicious staple of Palestinian cuisine.
Maklouba with Cauliflower (from Sahtain, © The Freres School, Bethlehem 1999)

1½ lb. lamb meat
1 large cauliflower
1 large onion
2 cups rice
3½ cups water or meat broth
allspiace
salt
pepper
garlic powder or fresh garlic (crushed)
saffron (optional)
pine kernels
oil for frying
butter


Boil cubed meat in water, skimming the froth as it appears on the surface. Add salt and spices. Cover. Let meat simmer over moderate heat until tender. Put broth in a bowl. Set the meat aside for later use.
Break the cauliflower into medium-sized pieces. Sprinkle with salt. Deep fry until golden brown. Drain on absorbent paper.
Saute onion and meat in a large pot. Cover meat with cauliflower then rice. Add broth or water to cover the rice. If desired, color the water with saffron.
Let it all come to a fast boil. Reduce heat. Cook covered for 40 minutes, or until the rice is tender and water is absorbed. Remove from fire.
Let cool for ½ hour, turn pot upside down in a large platter or a plate. Lift the pot carefully. If desired, garnish with sauteed pine kernels. Serve with yogurt and a lettuce salad.
Note: The disk is made with a special pan without handles.
Makes 4–6 servings.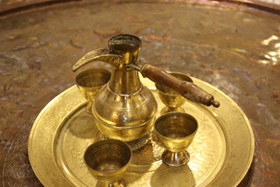 Beautiful tea set in lounge
8:00 P.M.
According to itinerary, the end of each day would be a time for debriefing and collective reflection. However, out of consideration for the long trek from Washington D.C. to East Jerusalem, the motion to proceed was put to a vote — and passed. Our delegation leader suggested opening the floor to L.E., if L.E. were comfortable with sharing her brush with custom control (she was).
L.E. was bundled off to a room for interrogation at custom control; true to the description imparted to us during orientation, the room was outfitted with a TV showing football [soccer]. After some wait, someone entered to ask L.E. for cellphone number, for names of mother, father, grandmother, grandfather, uncle, aunt, then leaves. (The information wasn't volunteered, but the fact that L.E.'s parents were born in Gaza was established.) Time passes — someone else (interrogator #2) entered to ask L.E. for the same information, then leaves. L.E. was made to wait further — one may come away with the impression that making people wait and demonstrating poor departmental communication are prerequisites to working at Ben Gurion Airport. Finally, interrogator #3 appeared to ask L.E. for similar questions, punched up a few things on the computer, and stated matter-of-factly, "your father owns land in Gaza." "Oh-kay," replied L.E. After a few more taps on the computer, interrogator #3 goes, "your mother doesn't turn up in the database; she must not have been born in Gaza." But wait, there's more: interrogator #3 punches up a picture of L.E.'s grandfather, a recent one at that, who lives in Kuwait. [At this point of her narration, L.E. openly speculated that the list of passengers entering and leaving Ben Gurion Airport must be shared with the Mossad.]
D.M. received similar treatment in a separate interrogation room. D.M.'s father, a Palestinian native of Amman, Jordan, coached D.M. not to volunteer her father's real estate holdings in the Palestinian Territories because "property would be confiscated by the Israeli government." She was asked her cell phone number, name of father, and grandfather. Much thanks to the woman from our tour company, who would regularly poke her head in to check on L.E. and D.M., they were returned to us a little bit shorter than 2 hours; the record holder for interrogation from a previous delegation stands at 8 hours.
B.N., who had never visited Israel before, was indescribably moved by his first contact with Tel Aviv.
Plainclothesmen pulled aside H.B.III soon after disembarking to ask his name, the length of his stay, and his itinerary. This encounter spoke to H.B.III's experience of being discriminated and profiled, but to come halfway around the globe then subjected to such blatant profiling, filled H.B.III with indignant outrage.
Unbeknownst to me, J.B. was also pulled aside soon after disembarking for, in his words, "look activist-y." I recalled the advice imparted during orientation: "you could be questioned if you look like an activist." What does an activist even look like? God forbid that we should all consign ourselves to wearing 3-piece suits and carrying leather briefcases.