4 June 2010, Friday
9:00 A.M.
The Holocaust Museum Yad Vashem was on the itinerary today, but not before we mailed our books and documents back to the States from the West Jerusalem post office. It just so happens that packages mailed from East Jerusalem are subject to being opened and confiscated. A few years ago, our delegation leader C.S. had mailed interviews recorded on several cassette tapes from East Jerusalem, only to find half the number of tapes [presumably] confiscated when the package arrived in the States. Not only did I have to pass through a metal detector, but I also had to present passport in order to send myself a package. Like, what the hell man? Israeli Postal Service: SERIOUS BUSINESS.
10:00 A.M.
We arrived at the Holocaust Museum Yad Vashem. "This place is crawling with IDF soldiers" was the first thought that crossed my mind as we approached. It turns out that for every 10 individuals in a group, 1 IDF soldier must be attached as an escort.
Yad Vashem is laid out roughly in the order of "Anti-Semitism Throughout the Ages," "Systematic Disenfranchisement of Jews as Nazi Germany Policy," "Jewish Armed Resistance," and "Hall of Memories." What stood out to me were the parallels of current Israel policies to then Nazi Germany policies:
Second half of the 1930's — the rest of the world considered the persecution of the Jews to be an internal German matter.
This quotation reminded me of an Israeli demonstration that received considerable coverage in the aftermath of IDF's raid on the Gaza Freedom Flotilla expressed full support for the IDF with a poster that read, "TURKEY, MIND YOUR OWN BUSINESS," a non-too subtle suggestion that Israel considers it within her rights to economically choke the Gaza Strip's 1.4 million Palestinians.
Despoiling the Jews was an integral part of Nazi policy. Property and possessions of Europe's Jews, who had been part of the countries economic and cultural life for hundreds of years were systematically plundered. In 1938, confiscation of Jewish property was supported by law.
Palestinians are prohibited from returning to their ancestral villages since 1948, and subsequently had their property confiscated by decree of the absentee law that had full Knesset support. Walls and fences in the West Bank that separated farmers from their farmland is another realized mean to dispossess Palestinians.
There are in this part of the world [East and Central Europe] 6,000,000 Jews… for whom the world is divided into places where they cannot live and places where they cannot enter.

— Chaim Weizmann (President of the World Zionist Organization) in 1936
Palestinians are forbidden from traveling on certain Israeli highways and roads, living in West Bank settlements, entering their land that fall within free-fire buffer zones, and traveling to Jerusalem without time-restricted permits. Even Arabs that live in the Ajami neighborhood, who are ostensibly Israeli citizens by law, cannot buy or live in a new Ajami development even with the help of Israeli Jewish citizens.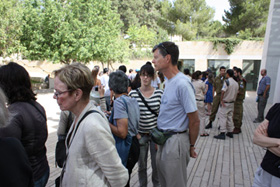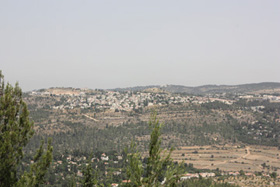 Left: For every 10 individuals, there is one IDF soldier chaperoning.
Right: When one exits Yad Vashem, settlements are visible.
It was difficult to square Israel's domestic policy toward Palestinians with an image of "the only [shining beacon of] democracy in the Middle East" that Israel broadcasts to the world. I understand democracy to stand for the right to free assembly expression, fair representation in the court of law, unrestricted movement of physical and economic goods, so on and so forth. Israel does not seem to be a democracy even to Israeli Jews that challenge the IDF, settlers, and government.
12:32 P.M.
We passed the Mamilla cemetery, the planned site of a courthouse and Museum of Tolerance. If Maya were here with us, I bet she would have said, "My country has a funny sense of humor." Generations of Palestinian ancestral remains were interned at the Mamilla cemetery, including among them the remains of Saladin and his holy warriors. It seemed to me the ultimate form of disrespect — not even deceased Palestinians were spared from Israel's policy of systematic expulsion.
12:41 P.M.
Police had set up fenced perimeters around the Jerusalem entrances, during our time away at Yad Vashem, to prevent Palestinians from entering the Old City. A Palestinian worshipper that was turned away at Herod's Gate remarked with disdain in his voice, "This is a democracy where you can't worship [freely]." Several Palestinians from across the street elected to pray there without attempting to enter the Old City or approaching closer to the city walls.
Significant numbers of Palestinians that did approach closer to the Old City walls were pushed closer to a wall corner, despite the fact that police fences had already established perimeters. Undaunted worshippers gathered as close to the walls as permitted by Israeli police, lined up in orderly rows, and conducted their prayers in near unison. The spectacle of peaceful serenity taking place in front of my eyes so deeply moved me that tears welled up in my eyes, and sounds of sobs escaped my lips. In the context of the greater Palestinians' struggle for self-determination, this was a silent rebuke to the Israeli occupation — silent because the plight of the Palestinians had been willfully neglected by the rest of the world. When I return to the States, it is my hope that I may be a strong ally to the Palestinian-Israeli struggle for a just peace.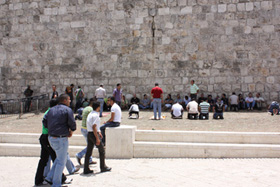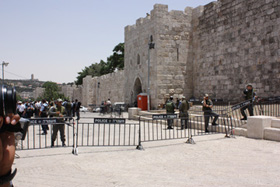 As the time of prayer neared, Palestinians gathered as close to the walls as possible, but the police mounties came to push them closer to the corner, even though police fences had already established perimeters.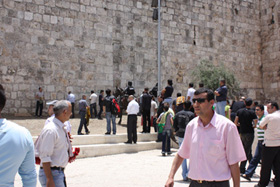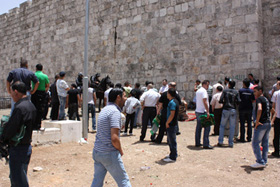 4:00 P.M.
Maya had told us during our tour of settlements and demolished homes about Jewish settlers that laid claims to the homes of Arab residents living in the neighborhood of Sheik Jarrah; as such, Arab residents of Sheik Jarrah faced expulsion orders from their own homes. Several members of our delegations elected to show our solidarity with the residents of Sheik Jarrah, and the Israeli demonstrators that supported them, by joining the Friday demonstration. Many demonstrators waved Turkey flags in appreciation for Turkey's strong condemnation of the IDF raid against Gaza Freedom Flotillas, and as proxy support for Palestinians 'cos the act of displaying Palestinian flags is considered a provocation to the state of Israel.
Someone in the delegation wondered if Keffiyehs should be mailed back to the States with all our collected books and documents in order to avoid airport delays; "Keffiyehs are pretty mainstream now, it should be pretty non-controversial." I didn"t mail the Keffiyeh back to the States, but just to be on the safe side, I wrapped the Keffiyeh around my torso, pulled on my T-shirt, and buttoned my long-sleeved shirt before boarding. I was fairly confident that I could scramble in the event of tear gas, but would the Keffiyeh's 1,000 stitches have protected me from IDF rubber bullets, I wondered?
Thank you for reading my photojournal.
This marks the end of my trip to Israel and the Occupied Palestinian Territories,
but not the end of the struggle to bring about just peace for both Israelis and Palestinians.

Comments, questions, requests? Please e-mail me at xboundx@gmail.com.